What Upgrades does my Property need to find a Renter?
Hi rental property owners. What kind of work does your rental property need in order to attract a good tenant?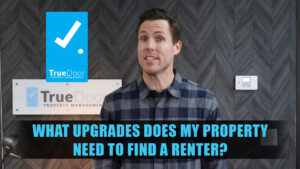 We help thousands of property owners get their property in what we call rent-ready condition. You might be moving out of your personal residence and turning it into a rental. Maybe your investment property is vacant and in-between renters. I'll give you tips on what work you can expect.
The first thing is to make sure that everything at the property is in working condition. That might seem obvious, but you really need to take a step back and make a list of the little things that don't work correctly. At my personal residence, I can think of a few things right now that would need to be fixed. There's that shutter that doesn't open right, one of the pool lights is out, and the fan in the kids bathroom is crazy loud!
Any appliance you leave at the place should work. I get asked if you can avoid repairing a broken air conditioner and tell an incoming tenant that it doesn't come with a/c. These types of moves are short sighted and cause you to lose over the long term.
Think of it this way, good tenants stay a long time, renew the lease and accept rental price increases each year. Vacancy is the most expensive part of being a landlord. Your tenant stays longer if the property functions well.
Now we need to review the cosmetic aspect of the property. The best tenants want a nice looking place to live. The rental should look very clean and fresh. This does not mean you need to remodel everything. Your property can have older kitchens and bathrooms, as long as they don't feel dirty. The kitchen or bath can feel dirty if the cabinets and fixtures are stained, discolored, or rusty. You can save some money by painting cabinets, replacing cabinet hardware handles, and replacing light fixtures and faucets.
I caution our clients to not spend too much money on high end remodels for their investment properties.
The best thing you can do to freshen up your rental is to paint the interior. When you are living in your property, you will not notice that it needs paint. Of course if it's been painted in the last 1-3 years, it's probably fine. A good rule of thumb is that you should paint if it's been over 3 years. When a property is empty, a fresh paint job can work wonders.
Flooring is also very important. If you have carpet, get it professionally cleaned or replace it. Laminate or hard surface floorings can be cleaned or replaced if needed. Tile grout can be professionally cleaned. 
I tell people there's a good balance to find when getting your rental property in rent-ready condition. Do make it look clean by painting and cleaning or replacing flooring. If it's time to remodel the kitchen or bath, be sensible and don't go overboard.
Here's a question I often get. What if I don't do anything to the property and we advertise it "As Is". This is not a good strategy to get the most out of your property. You will have to accept a lower rent price, but also you will attract a tenant who is likely less qualified. This can turn into more vacancies. And remember Vacancy is Your Biggest Expense!
Please contact us if you need any guidance on getting your rental property ready.