Rent Market Value: Can I Charge Above it?
Can you get above market rent for your rental property?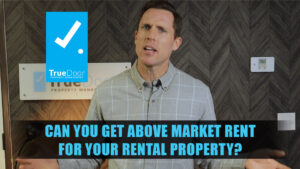 We all want to get the most money from our rental property. As investors, we look for ways to maximize our profits. When it comes to rental property, you can get above market rents, but it should align with your long term investment strategy. 
Most property owners use a long term rental strategy. That means they want consistent rents and low vacancy rates. This strategy is popular because it lowers property expenses over time. There's a lot of costs each time a tenant moves out and a new one moves in. 
The departing tenant's security deposit only covers damage to the property. Each time there's a turnover, you will have repairs for wear and tear items to get the property in a rent-ready condition. 
So if you are using a long term rental strategy, I don't recommend going for a rental price higher than the market. 
If your rental property is priced higher than competing properties, you will experience more turnover. Tenants don't like to move, but eventually will if their rent is consistently a significant amount more than a similar property. 
The biggest disadvantage of asking for an above market rental price is that your property is likely to sit vacant for too long. Prospective tenants can easily compare prices online. You can lose a lot of money if your property sits vacant for a month. 
When filling a vacancy, I recommend advertising a market price and filling it within 30 days. Each year you should raise the rent and renew the lease agreement to keep up with the market. 
Now, here's some strategies if you want to get above market rents. The most popular is offering your property as a short term rental, or vacation rental. Before doing this please check with your local city as many cities in Orange County have laws prohibiting short term rentals. Many cities have a 30 day minimum rental period. You might see some local listings on Air BNB, but be aware that your city will fine you if you get caught doing a short term rental in a prohibited area.
Another strategy is renting out each individual room to different tenants. Some people call this house hacking. Your total rent for all the bedrooms combined will be higher than renting the entire property to one party. This does work, but you should consider the amount of wear on the home and the additional time needed to manage this situation.
In conclusion, I recommend that you use a long term rental property strategy and avoid asking for an above market rent price. If your property is located in a city that allows vacation rentals, you should also consider that option. 
If you have any questions about this topic or anything else in property management, please contact us and we're happy to help. I'm Kyle with TrueDoor Property Management providing five star results, backed by our guarantees, getting you more money with less drama.