Keep Your Orange County Property & Tenants Safe With These Useful Tips
Everyone wants to feel safe where they live – including your tenants in Orange County. As a landlord, it's your responsibility to ensure your property is safe and secure.
Property crimes may be 3% lower in Huntington Beach than the national average, but it's still important to take precautions and prevent crimes from happening. You may be wondering how you can be proactive and keep your tenants and property safe from unexpected incidents.
Well, you came to the right place! We're going to share nine of the best things you can do to make your rental property more secure. Most of these tips are inexpensive and extremely effective, too.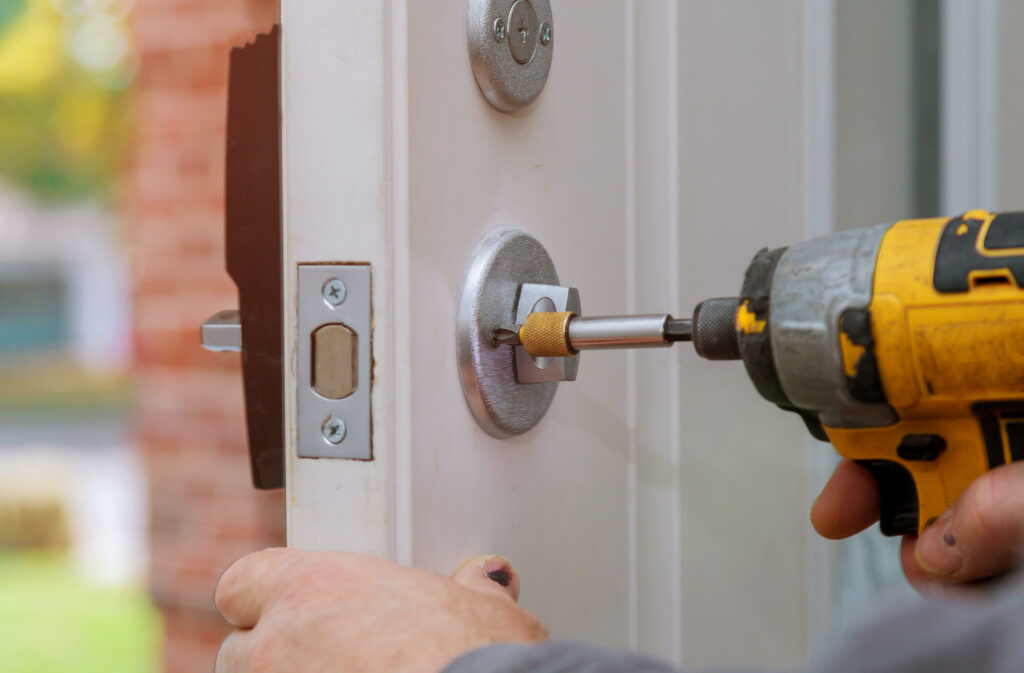 1. Add a Deadbolt to the Front Door
A deadbolt lock is one of the most effective ways to secure your property's front door. It is one of the best ways to reinforce the security of your door. You can't simply depend on the lock on the doorknob anymore.
There are many different types of deadbolt locks on the market. From one to double cylinder locks to different grades of deadbolts, it's important to do your research and find the one that's best for your rental property.
When you install a deadbolt, you make it much harder for someone to kick down the door and break into the property.
2. Upgrade Locks to Electronic Keypads
Since we're on the subject of locks on the doors of your property, you may want to consider using an electronic keypad lock.
These electronic locks are a modern and convenient way to make your property more secure. Not only will your tenants feel safe and never have to worry about being locked out, but it could increase the value of your property.
The more high-tech your property is, the more renters are willing to pay for it. A keyless electronic lock will surely impress renters looking for homes in Orange County.
3. Install a Security Camera
You may be under the impression that security cameras are expensive and difficult to install. This isn't the truth!
Maybe ten years ago, they were a luxury for homeowners and landlords to have, but now they're fairly common, especially among rental properties. If anything were to ever happen on your property, you could capture video footage of the incident.
Remember to always make your tenants aware that you have security cameras that are filming at all times or with motion sensors. Depending on our neighborhood or county, you may need tenants to fill out a waiver acknowledging they will be recorded for security purposes.
4. Boost Outdoor Lighting
Crimes often take place in the darkness of the night. You can try and eliminate this risk by boosting the outdoor lighting on your property.
Add motion sensor flood lights on garages or near the front door. You can also line the walkway up to the door with solar-powered lights.
If someone is trying to break into the house and lights come on, it draws attention to them, which will deter them from following through.
Not to mention, your tenants will surely be thankful for some outdoor lighting when they come home in the dark and have to find their keys in a purse or backpack. They will also feel safer with the light illuminating them so neighbors and passersby can see them.
5. Check Back and Patio Doors
We are so focused on the front doors of our properties being secure that sometimes we forget about the back or side doors. If your property has a sliding door, balcony, or just another door that leads out of the house, ensure they're properly secure.
Since these doors lead outside, you may want to consider installing a deadbolt lock on them if possible. If you have a sliding door, get a pole or door stopper to lay down in the track when it's closed. This makes it much harder to try and break it open.
6. Setup an Alarm System
Some tenants may really appreciate having a monitored alarm system installed in the property. They can set the alarm at night or when they leave the house. Knowing that if someone tries to get into the house, they'll hear the alarm or be notified will put their minds at ease.
As the landlord, you can decide whether or not to include the price of monitoring the alarm in the rent or not. Or you can leave the decision to have the alarm system monitored up to your tenant.
7. Lock the Windows
Now that you're aware of how to make your doors more secure, it's time to move on to the windows. These are often forgotten about when making your rental property safer.
Make sure to check that the locks work for all of the windows, especially those on the ground level or basement. If you want to make them even more secure, consider putting alarms on them.
8. Get to Know the Neighbors
When you become a friendly and familiar face in the neighborhood, your neighbors will most likely keep an eye on your property for you. So, becoming involved in the neighborhood and community where you bought your rental property can be very beneficial.
Recommend to your tenants to also get to know the neighbors as well. A friendly hello and quick conversation can go a long way when it comes to keeping an eye out for one another in the neighborhood.
9. Ask Tenants to Return Keys When They Move Out
Oftentimes, tenants forget to hand over their keys when they move out of an apartment. This can be dangerous for new tenants living in your property. So, make it a priority to collect all of the keys you've given out.
Also, add a clause to the lease prohibiting your tenants from making copies of the key without your consent. It is never safe to have unknown copies of the key to your rental property floating around. You never know who could have them.
Properly Secure Your Property with TrueDoor Property Management
Getting help from a professional property management firm when managing, maintaining, and securing a rental property in Orange County is always a good idea.
TrueDoor Property Management is the area's leading property management company, and we're ready to help you manage all aspects of your rental properties. We offer full-service property management and maintenance services, so you don't have to constantly worry about it.
Not only will we ensure your property is safe and secure, but we will also use our team's expertise to make sure you've secured the most return on your investment.
Are you ready to secure your property and see greater profits? Call us today to find out how we can help make owning a rental property in Orange County so much easier for you.