When to lower the rent asking price
Hi rental property owners. When should you lower the advertised rent price on your rental property?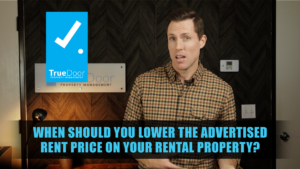 My name is Kyle here at TrueDoor Property Management. We lease hundreds of properties a year and have anywhere from 10-20 rentals being advertised at any given time. What if you are looking for a tenant, but nobody is taking it? Is it time to lower the asking price?
Here's the rule of thumb that we follow. A property should get at least 2-3 serious inquiries a week. A serious inquiry could be a phone call from a prospective tenant, or even showing. This amount of activity indicates that the property's price is in the right price range.
If you need guidance on getting the right price, check out my article  titled How Much Rent Do I Charge?
A rental property should get a signed lease within 30 days of being on the market. You already know that vacancy is very expensive. Imagine you have a $4,000 rental home sitting empty, that's about $1,000 loss a week!
The best strategy for a rental property is to fill the vacancy with a tenant within 30 days, then renew the lease agreement each year with an appropriate rent increase.
I also do not recommend that you place a tenant that is not properly qualified. Some tenants that do not qualify will offer to pay more rent. Our experience has taught us to avoid this situation. Quality tenants typically don't pay over market prices because landlords want good tenants in their buildings. 
The best practice is to put your rental property on the market and make price adjustments in the first 1-2 weeks. Do not wait until 30 days have passed. If you have 1-2 weeks that produce less than 2-3 prospective leads a week, it's time to lower your rent price.
Now, if you are getting 2-3 leads and still don't have a signed lease, there's probably a cosmetic issue. That means people are interested in the property, but after seeing it they get turned off. Try to get feedback from prospective tenants and consider interior paint or maybe some new flooring. 
Thanks for watching. Please subscribe to our channel for more information about rentals. If this video has been helpful to you, please hit the like button. I'm Kyle at TrueDoor Property Management, providing property owners more money with less drama, backed by our guarantees.