A Complete Guide to Renting to College Students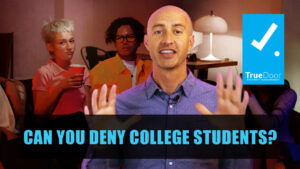 Renting to college students can be unavoidable in common Southern California areas like Orange County or the Inland Empire. For young adults searching for a picturesque university experience, the nearby beaches, entertainment venues, and outdoor activities make this sunny state hard to resist. Unfortunately, landlords looking for financial freedom through rental properties struggle to navigate renting to college students for several reasons. 
In this article, we're going to share some common hurdles landlords face when renting to college students, and we'll give you expert tips to successfully navigate leasing your property to students. Let's start with one of the most popular questions we get regarding renting university students.
Can a landlord refuse to rent to college students
?
College students have a bad reputation when it comes to rental properties. Below are some of the stereotypes college students are labeled as: 
Loud & Disrespectful

Throw Parties Often

Too Many Roommates

Careless with Properties

Excessive Drinking & Use of Drugs
These stereotypes tend to make landlords shy away from accepting college students as potential tenants. We'll be straightforward with you and say you cannot deny a tenant's application simply because they are college students. If you refuse to rent to students it's considered discrimination, and this can get you into a serious lawsuit if you're not careful. If you're hesitant to put your rental property in the hands of students, we have some tips on limiting college students' tenant applications. 
How to Limit
Renting to College Students
One strategy for limiting students is to not accept cosigners. Many students do not have enough income to qualify for the property. Because of their lack of income, students might try to have a cosigner when applying to rent a property. A cosigner is a person, usually a parent or friend, that has enough income to qualify for the rental property. A cosigner does not live in the property, but they raise their hand saying, "I will vouch for these applicants and I will pay if they can't afford the rental price." 
Here at TrueDoor, we do not like accepting cosigners for the following reason: we want the people living in your rental property to have the means of qualifying on their own, with their own money and personal credit score. Sadly, it's really easy for a co-signer to disappear when called upon to pay the rent. In the case of college students, if they cannot qualify on their own without the help of friends or family, then we will refuse to rent to the students. When setting up your rental advertisement, be sure to include that you do not accept co-signers and that all applicants must be living in the property. Not including this in your property's ad can lead to misunderstandings and possible disputes. If you're still feeling timid about renting to college students, here are some potential benefits to consider when renting to reliable college students. 
Benefits of
Renting to College Students
Although many property owners are hesitant about renting to college students, there can be some major advantages of leasing to students. Below are some pros of renting to university students:
Working students can be responsible and reliable tenants 

College cities like

Orange, CA

have built-in demand for housing

You will yield higher rent prices if your property is close to a university campus

You can save time and money on upgrades since students have lower expectations than most tenants
We understand that renting to college students is a big decision to consider, and it's important to weigh the pros and cons of leasing your property to students. If you've decided to rent out your property, we're happy to help with all of your property management needs.
We'll Help You Manage Your Rental Property
TrueDoor Property Management has been guiding property owners in Southern California for over 40 years. If you're renting to college students or other individuals and need help with daily maintenance, diligent rent collection, and more contact us to gain support from our team of professionals.