When to Start Looking for a Tenant
Hi rental property owners. When should you put your rental property on the market and begin looking for a tenant?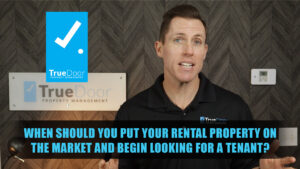 In this article I break down the answer into 3 points that affect when to start marketing the rental. The condition of the property. Should you put your property up for rent while you're still living in it? And, what if the property is currently occupied by a tenant? 
1. The condition of the property
The best practice is to start the advertising and put your property on the rental market when it's ready to show to prospective tenants. That means, have the property in a condition that's ready for someone to move-in. Showing the property in its best condition will get you the most rent and the best tenants.
If you are in the middle of doing some work to the rental, I recommend that you only show a property to prospective tenants when the work is complete. It should be in the same condition that the tenant will move into. For example, if you plan to paint the interior and change the carpets, don't show the property until you've completed that work. 
Why? Because prospective tenants often misunderstand what the finished product will look like. Unfortunately, there can be serious misunderstandings about what work a property will get. If you say "we are painting it white", the tenant signs a lease, moves in later and then complains that you painted the walls "off-white". They might even be upset that you didn't paint the cabinets. You never planned to paint the cabinets, but tenants could be thinking that's what you meant. I'm not saying the tenants are dumb, it's human nature and misunderstandings do occur often.
Why is this important? Because the tenant's experience at move-in sets the tone for the entire relationship. Starting the relationship with a misunderstanding can cause problems in the future that can lead to poor care of the rental and early move-outs.
Some people like the idea of putting up an ad to "generate interest", but not make the property available for showing. In our experience, If you advertise it prior to giving prospective tenants access to a viewing, they will move on to another property. 
We do use some great tools to show properties virtually. We do a 360 virtual tour and a video walkthrough. But the property should be in a showing level condition. From time-to-time we will lease a property to someone who has not seen the property in person, but most prospective tenants will see the 360 tour and video walkthrough, then will schedule a time to view it in person.
2. Can I advertise and show the property while I'm living there?
You can live in the property while we advertise and show it. Please be aware that it can be an inconvenience to you. Prospective tenants often want to see a rental on short notice and we do try to accommodate their schedule. The property should always be clean and ready for showing. Of course we will plan around your schedule for showings, but more availability will result in a faster leasing time.
It's very important that you have a solid move out day. We need to be clear with prospective tenants when they can move in. When we sign a lease agreement with the tenant, you will have to honor the start date and make sure you have moved out and have the property ready for the tenant.
If you choose to advertise and show while living in the property, I recommend to start about 45 days prior to the date a tenant is able to move in.
3. Can I advertise and show the property while the current tenant is living there?
Yes. We often will advertise and show a rental in a situation where the tenant has given notice to move out. For this to work well, we need the tenant to be onboard so property showings go smoothly.
Our leases do require the tenant to allow showings to prospective tenants, but it's not easy to ensure the property is clean looking for the showing appointment. Fortunately, we find that most tenants will get onboard to our plan.
If there's any cosmetic work the property will need, I do recommend that you wait until the tenant moves out.
In conclusion, you can see that timing and property conditions are important when planning to rent your property. If you have any questions about this or anything else in property management, please contact us and we're happy to help.