Property Management Statements Explained
How do property management statements work? I'm Kyle at TrueDoor Property Management. I'm going to explain how to understand the statement for your rental property.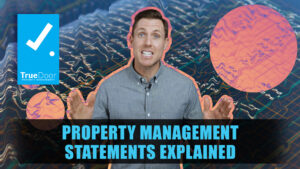 Each property management company will be using different software, but most statements work the same way. Our company uses the Appfolio software system and I'll be showing you statements from that system.
The first thing to understand about your rental property's statement is that it covers a set time period. The statement will show each transaction that occurred in that month. For this reason, you will receive a statement every month that shows the prior month's activity. January's statement will be available for you to view on February 1st, it will cover each transaction that happened Jan 1st to Jan 31st.
Because the statement covers the entire month, you have to wait until the end of the month to receive the statement and get all the details. If you have questions and don't want to wait until the end of the month, you can always call us and we are happy to help you.
Let's take a look at a sample statement. The first thing to understand is that the property management statement reads like a bank statement because rent money is coming, then being sent out.
When the property management company is holding your money, it's kept in a trust account. Trust accounts are regulated by the Department of Real Estate and money in the trust account must handled in a specific way.
At the end of the year, your property management company should send statement for the entire year, this makes it easier to do your taxes. Speaking of taxes, you will also receive a 1099 for all the rents we collected.
I hope this information has been helpful. Please feel free to call with any questions, or leave a comment on this video.