How to Market a Rental Property
Hi property owners! Today I'm going to show you how to market a rental property.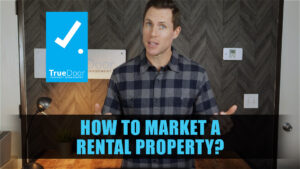 We lease hundreds of properties a year. Fortunately, there's a high demand for housing in Orange County. Low supply and a lot of people have made a great market for rental properties. That doesn't mean you can just throw up a For Rent sign and move-in the first person that stops by. Your property still needs great marketing so you can attract the best quality tenant.
Here's the main points to consider when putting your rental property on the market to find a tenant: Condition. Pictures & video. Where to advertise. And showings.
Point #1: Condition.
When you first put your property up for rent, make sure it's in good condition. I don't recommend marketing a property that's not ready for someone to move into. Check out my other article titled "What upgrades does my property need to attract a tenant". This explains what condition the rental should be in.
Point #2: Pictures & Video.
If you're watching this video, you already know that good pictures are important to your rental listing.
Check out one of our current rental listings on our website….wide angles, lots of light, shows different angles.
Good pictures will attract interest, but a good video is key to describing the property and showing the potential tenant how the property will feel to live in. Because most prospective tenants do all their searching online, making a video walkthrough will help to attract more people. The more people that are interested gives you a better chance of getting a qualified tenant. It also speeds up the time to fill your vacancy. When you find a good tenant quickly, you save lost rent on your property.
Check out our YouTube channel for many examples of how to create a video walkthrough. These are not hard to do, it just takes a bit of time to get it right. Notice how the property manager narrates the walkthrough and points out of the highlights. Imagine you are giving a personal tour. We put these videos on YouTube channel and I'm surprised at the number of views these things get.
I think the most powerful tool we use to market a property is the 360 Tour. It's not necessary and requires some special equipment and software, but wow does it really make a difference.
Point #3: Where to advertise.
Placing your listing online on the top rental search websites will get you so much further than a For Rent sign in your front yard. The best prospective tenants don't drive around looking for rentals. 
The best websites to list your rental can change over time, but currently I think Zillow, Facebook Marketplace, Trulia, and Apartments.com are among the best. You can also do Craigslist, but I prefer the other websites. I also prefer not to use a For Rent sign. I believe that it attracts too much of the wrong kind of attention, and isn't necessary. 
Point #4: Showings.
I recommend only showing the property to serious prospective renters. You know someone is serious if they have read the description, viewed the walkthrough video and reviewed the 360 tour. 
Before the showing make sure you set clear expectations for the rent price, qualifications, and when they can move in. Don't waste time on looky-loos who just want to see the property for fun. At the showing, be positive and use salesmanship to highlight the best parts. Encourage prospects to complete an application. Follow up on serious applicants and qualify them quickly. The most qualified applicants are valuable, treat them like a customer.
In conclusion, marketing your rental correctly will get you higher rents and great tenants. Because there's high demand for rentals, you can get away with the bare minimum, but with a little effort you can greatly increase your results.