How to Find a Tenant while Living at your Rental
Hi rental property owners. Can you find a tenant while living at the property?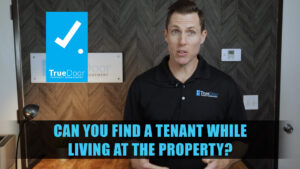 You are a property owner that is moving out of your home or condo and want to keep it as a rental. Good move!  Should you start looking for a tenant now? Or, should you wait until you have moved out?
The best option is to start looking while you're still living there. This approach can shorten the vacancy time, which will save you money.
This only works well if the property is in a showing condition. If you need to do any cosmetic work, I recommend that you wait until the work is complete before putting the property on the rental market.
Assuming your property is ready for a tenant, you can place your property up for rent while living there. Please be aware that it can be an inconvenience to you. Prospective tenants often want to see a rental on short notice and we do try to accommodate their schedule. The property should always be clean and ready for showing. Of course we will plan around your schedule for showings, but more availability will result in a faster leasing time.
It's very important that you decide on a solid move out day. We need to be clear with prospective tenants when they can move in. When we sign a lease agreement with the tenant, you will have to honor the start date and make sure you have moved out and have the property ready for the tenant.
If you choose to advertise and show while living in the property, I recommend to start about 45 days prior to the date a tenant is able to move in.
If the property does need cosmetic work, I recommend you wait until the work is complete. For example, if the property needs an interior paint job or perhaps new flooring, I would wait until you move out, do the work, then put the property on the market.
A good property manager can help you navigate this process. Timing is crucial. To save time, prior to moving out, you need to get estimates and schedule workers for immediately after you move out. Starting the process early can save weeks of vacancy time.
Why would you wait to start advertising?  Because prospective tenants often misunderstand what the finished product will look like. Unfortunately, there can be serious misunderstandings about what work a property will get.
Please consider that the tenant's experience at move-in sets the tone for the entire relationship. Starting the relationship with a misunderstanding can cause problems in the future that can lead to poor care of the rental and early move-outs.
If you have any questions about this topic or anything else in property management, please contact us and we're happy to help.