Finding a Tenant: How Long Does it Take?
How long does it take to find a tenant?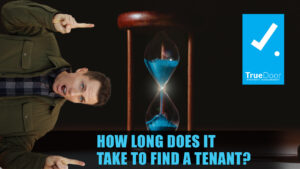 When your property is on the rental market, you want to find a tenant as quickly as possible.
It should not take more than 30 days to find a qualified tenant. Rentals that are in high demand should rent faster, often within 1-2 weeks. Single family homes are always in short supply and fill quickly. 
Price and property conditions are the two most important factors that determine how long it takes. A property that is priced too high will sit empty and cost you a lot of money in lost rent. A property that is not in a clean and working condition will also sit empty.
Here's the rule of thumb we follow. A property should get at least 2-3 showings a week. Anything less is an indicator that the price or condition is wrong. 
If your property has been on the market for 30 days, you might be tempted to accept a less than a qualified tenant. Bad idea! It's better to lower the rent and get a qualified renter. 
I'm Kyle at TrueDoor Property Management, providing five star results backed by our guarantees, making you more money with less drama.