Here's How to Replace a Tenant Before They Move Out
The tenant at your rental property just gave notice that they are moving out. Let's talk about how you can find a new renter before the current one moves out.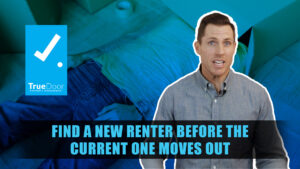 You have two options when your tenant moves out. Wait until they have vacated or start advertising and showing right away. I recommend starting right away if you can. For this to work, the property has to be in showing condition while the tenant is living there.
If you are needing to paint or new flooring, or plan to do any kind of work that can take more than 2 weeks to complete, then I recommend waiting until the current renter moves out. This is because you are walking a fine line between the new tenant's scheduled move in date and the time it takes to complete the work.
If the property is only in need of cleaning and some minor repairs, then go ahead and get it on the rental market. This will save you a lot of money in vacancy time. Limiting the time your rental is empty can save you thousands of dollars. 
Here's how you do it. First notify the current renters that you will be advertising and showing the property while they are still there, remind them that has already been agreed to in the lease agreement. Most lease agreements have this provision already.
The current tenant isn't going to be excited about this, so I recommend making it easy on them. We will advertise the rental and ask people not to visit the property or interact with the tenant. We provide prospective renters with a lot of information, such as good pictures, a video walkthrough of the property, and a 360 virtual tour. Serious prospective renters will then complete an application because they feel comfortable with all the information we've provided about the property. 
We will arrange showings of the property only to very serious prospective renters that have filled out an application. To make this easier on the current tenant, we often have agreed to times once a week that work for their schedule. 
We are trying to make this smooth on the current tenant because the quality of the in-person showing depends on how clean the property is. Do we have to do all this arranging? No, the lease agreement gives us the right to enter and show to prospective tenants, but you can imagine how much better this will go if everyone is on the same page.
Sign a lease agreement with the new renter with a specified move-in date. You are asking for trouble if you tell the new tenant that they can move in "sometime at the end of the month". Give them a set move-in day they can plan on. The move-in day should be at least one week after the current tenant moves out. This gives you some time to do minor repairs and a cleaning.
I hope this helps. I'm Kyle at TrueDoor Property Management, providing five star results, backed by our guarantees. Making you more money with less drama.