Do I tell my HOA that my Condo is a Rental?
Should you inform your HOA that your condo is now a rental property?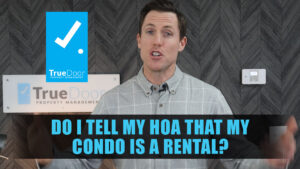 I'm Kyle here at TrueDoor Property Management. Rental property owners ask me whether or not they should tell their Homeowner's Associations (known as HOAs) that their property is a rental 
Imagine you just purchased a condo or townhouse with the intention of making it an investment property. I think it's fair to say that most of us are a little bit scared of dealing with the HOA. 
Fortunately, it's been my experience that most HOA's do not need to be notified that you are renting out your condo. I have run into a few communities in Irvine that have requested contact information for the incoming tenant. To play it safe, I recommend that you contact the HOA and ask if you are required to fill out any paperwork. 
So what happens if the tenant violates any of the Homeowner's Association rules? Your property management company handles that for you. 
When moving in, the tenant agrees in the lease contract that they will follow the HOA's rules and will pay any fines for not complying. A good management company will provide the tenant with the HOA's rules. 
I hope that helps. Please contact TrueDoor Property Management if you have anymore questions. We are happy to help.