Here's Why Irvine is Waiving Property Taxes on Rental Apartments
The city of Irvine Forgoes property taxes to convert 1,000 plus units to middle income housing.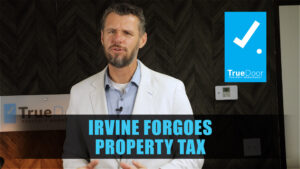 So what does that mean to the average person? 
Sam Fernley here with Truedoor property management, creating content for property owners and realtors here in southern California. 
So what does foregoing property taxes to convert 1,000 plus units for middle income housing even mean? 
Lets take Royce apartments and toscana apartments in Irvine as an example. Both rent prices are expected to be lowered on more than 1,000 apartment units to provide affordable options for people who fall into whats been called the "missing middle".
 Those who make too much to qualify for typical affordable housing programs, but not enough to afford the average apartment under market rates right now. And now what happens when the deal is made, builders and property owners will now lower rent on all units in exchange to not have to pay property tax at the end of the year. 
These programs can also issue Govt bonds to buy apartment buildings. When the building is bought, slashing the rents for the units in exchange for not having to pay for property tax at the end of the year is also implemented.
Well I hope you feel more informed now then you did a couple minutes ago. Feel free to contact us with any questions.