Can I pick my own tenant?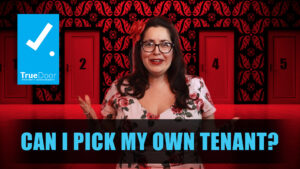 I want to know who's living in my property. Can I pick my own tenant? 
Many property owners are concerned about picking the right tenants. It's understandable, you want to protect your investment. However, what some investors might not understand & really should be aware of is that there are certain laws and regulations you have to comply with when placing a tenant no matter who is placing them – whether it's you or a property management company.
You may be thinking – What does that mean? I'm referring to Fair Housing Regulations – you should have written qualifications, you should know the protected classes, you should be familiar with rules regarding emotional support animals & so on.
The fair housing act protects tenants from discrimination & understanding those regulations protects you from a lawsuit. You could unknowingly violate the law by asking the wrong question about the tenant, children or service animals. It's important to know the laws & stay informed – as changes can happen often.
it's Quiz time: let's see if you know the answer to these questions we commonly receive.
Question #1: Can you ask a tenant their age?
Question #2: Can you rent only to families?
Question #3: Can you ask what disability a service animal is assisting a tenant with?
Post your answers in the comments section down below & I'll be sure to let you know if you got it right.
Now if you're just too busy to get up to date on current laws – trust a property management company to stay up to date for you. Now here at TrueDoor Property Management – we pick the tenant for you. We have specific criteria we use in our tenant selection process to ensure all Fair Housing Regulations are followed and you are protected from any claims of discrimination.
We will make sure we place a qualified tenant in your home & you can have peace of mind with our lease break guarantee that if your tenant breaks their lease & moves out of your rental property earlier than scheduled, we'll find a qualified new tenant for you at NO additional cost.
If you decide you want to move forward to pick your own tenant – I suggest you go to the fair housing website – Check out what workshops are available through your local fair housing council as well. They offer lots of great resources. & you'll be in a better position to know the dos & don'ts on what you can say or do.