Balcony law for rental properties
Own a property with a balcony?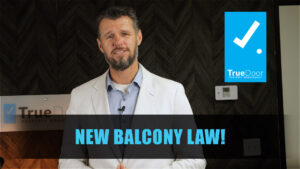 The new balcony law could cost you thousands of dollars after you buy it! Sam Fernley here with TrueDoor property management, creating content for property owners and realtors here in southern CA.
California enacted two balcony laws, Senate Bill 721 in 2018 and SB 326 in 2019. Buildings with three or more units with wood balconies, decks, stairs and walkways 6 feet or more above the ground, require a "deep dive" inspection and will most likely be resulting in repairs made and done by Jan 1st 2025.
This Deep Dive inspection can not be done by just anyone. 
If you have a HOA, they will need to hire a licensed engineer to inspect the entire complex. Then once the report is completed, it must get bids for any needed repairs. 
Don't forget the COVID induced materials shortages and supply chain challenges.
Now if you are wondering what this might mean for you? Just make sure by January 1st 2025, you have your balcony or "soon to be purchased" balcony inspected and up to code by a licensed vendor. 
Feel free to contact us if you have any questions.