$20K Mistake. What appliances should I provide in my rental?
$20,000 dollar mistake: What appliances should I provide for my rental?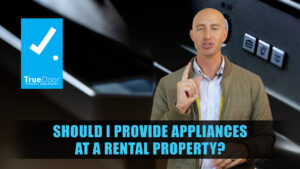 As a landlord you don't think providing an appliance could be a $20,000 mistake but you'd be wrong.
Once upon a time in Orange County California there was a landlord that rented a house to a family with a year old refrigerator. The fridge worked fine for 8 months and then it stopped cooling while the tenant was on a 2 week vacation. When the tenant came home all of the food had gone bad. The tenant is upset and says the owner needs to pay for all his lost food which they say is $500. The Landlord tells the tenant no, that is not my responsibility. I put in the lease that I would not maintain or fix the fridge if it breaks. The tenant claims that he was never told this and keeps sending angry messages to the landlord. Eventually, the Tenant reluctantly pays for the fridge to be fixed and withholds $400 from the rent to cover the repair. The Landlord unhappy, sends some angry messages back demanding the money. The owner decides to post a notice to pay or quit. Tenant sends the landlord even more aggressive messages and does not pay. The landlord decides to start the eviction and feels justified but this will cost about $1500 in legal fees. Once the Tenant is served the eviction papers they decide to stop paying their $4000 rent and 60 days later the landlord finally gets his property back with additional damage from an angry tenant. The cost to get the property rent ready is about $7000. 30 days later the new tenant moves in. What could have been a $500-$900 dispute ballooned to a $20,000 fiasco in lost rent and damages. Now was the landlord right? Yes! But was the landlord smart? No. Sometimes being right comes with a hefty cost. Now my fellow landlords how do you avoid this? 
We manage just under a 1000 rentals and Appliances can be a big point of contention and lead to many awkward conversations with your tenants. So What appliances should the landlord provide? Who fixes them? If they break down does the landlord have to replace them? Can the tenant bring their own appliances? 
I personally like to control the controllable. On my rentals I provide an oven and stove, a dishwasher, and that's it. I will not provide a fridge, washer and dryer, or microwave. If they have problems with their fridge or their washer and dryer they do not call me. If I am not providing the appliance there is nothing to fight over. Now, if you are providing appliances I do not recommend having the tenant be responsible for maintaining or repairing the appliances. Too often the tenant will conveniently forget that this is in the contract and then I have to have an awkward conversation and a heated back and forth that inevitably leads to the tenant being upset. Even if the tenant eventually pays for it, guess what? I also paid for it… emotionally, having to explain and negotiate with an upset tenant. I recommend that if you provide an appliance that you maintain it and repair it. This is a practice that is accepted in our marketplace that the landlord pays for it. This practice leads to happier tenants. Trust me, You want happy tenants, Happy tenants pay their rent, happy tenants care for your property, and happy tenants stay in your rental longer. And that's what we want at the end of the day, we want tenants that stay for a long time. So if you don't want to pay for it, do not provide it. Again if you don't want to pay for it do not provide it. 
Now before you go, there are some exceptions to this rule: 
If the rental requires a stackable washer and dryer then I would provide it and maintain it. 

If the rental requires a special sized fridge in order to fit the space, I would provide it and maintain it. Because of the unique size requirement. And lastly 

 If your rental is in an area that is lower income, then you may need to provide a fridge and a washer and dryer. This may be necessary to help fill your vacancy in a marketplace where most tenants do not own these appliances or do not have the means to purchase these appliances. A good way to determine what you should do is look at competing rentals in your area. If 70% or more of the advertised rentals have appliances then you will probably need to provide them.