Great News property owners, rental prices are on the rise!!! Sam Fernley here with TrueDoor Property Management creating content for realtors and property owners here in Southern California.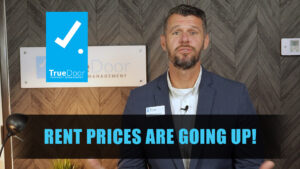 Rental prices keep going up up up and up, while the inventory is dwindling down down down and down. If you are on the bubble about renting or selling your property, I will admit I'm going to be a little bias when I say rent it out, but now I can say just look at the numbers. 
A Southern California News Group composite from three rental indexes shows the asking rent for a vacant unit in L.A. County jumped an average 10% from a year ago during the fourth quarter of 2021, snapping a 12-month lull that pushed L.A. rents down during the pandemic. The same composite showed Orange County asking rents rose an average 18% during the fourth quarter and Inland Empire rents were up 17%.
As a general rule, rents are expected to drop when vacancies are above 5% and go up when they're below 5%. Now, the rents are climbing again. Rents fell a lot, in L.A. County, at the beginning of the pandemic. But they've not only caught up, they've more than caught up. And in particular, in OC, they've just gone gangbusters. Composite numbers from the three rental indexes show Orange County's average rent at the tail end of 2021 was $2,432 a month, or $368 more than in the fourth quarter of 2020. This is great news for our orange county landlords and hopefully this news convinces you to hold your real estate. Unless your selling to exchange into some other real estate never ever sell. Holding builds wealth, and if you're tired of being a landlord then we can do it for you.